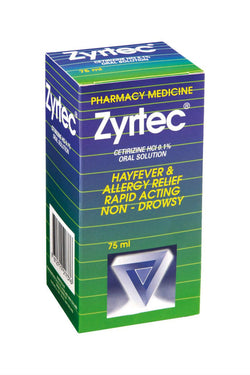 ZYRTEC Allergy & Hayfever Relief 75ml
Ezy Pharmacy
Only 0 in Stock. Be Quick!
Zyrtec is an anti-allergic used to treat hayfever and other allergic conditions. It is fast acting, usually within 10-20 minutes after taking it, non-sedating and its effect lasts for 24 hours.
Ingredients
Cetirizine 1% Oral Solution
Warnings
Do not exceed the recommended dose. People with kidney problems , and pregnant or breast-feeding women should seek medical advice before taking Zyrtec.
Although this medicine is unlikely to affect your ability to drive or operate machinery, a few people may be impaired and care should be taken.