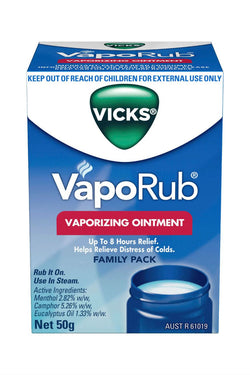 Only 10 in Stock. Be Quick!
Your Mum used it. Your Grandma did, too. And her Grandma before her. Generations spanning more than 100 years have trusted Vicks VapoRub to provide relief from the common cold for the whole family.
Today, it is Vicks VapoRub providing relief in 5 minutes for the whole family, preferably applied with mum's healing touch, that your own loved ones rely on to drive away the flu season's aches and difficulties.
When a cold strikes, men revert to little big boys - and the only way to get your Big Strong Hubby back is to lovingly nurse your Man Child with the secret remedy his own mummy used against colds when he was just a wee boy

Ingredients
Menthol 2.82% w/w
Camphor 5.26% w/w
Eucalyptus Oil 1.33% w/w
Warnings
Use as directed. If fever is present or symptoms persist, consult your physician. Avoid contact with eyes. Do not take by mouth or place in nostrils.
Not to be used on children under 2 years of age unless directed by a physician. Discontinue use if irritation develops. Do not apply to wounds or damaged skin. Do not bandage tightly or use with heating pads.
** DO NOT heat directly or place in any container in which you are heating water. Never expose vaporub to flame or use in a microwave oven. Such improper use may cause harm/burns. In case of accidental ingestion, seek medical assistance or contact a poison information centre immediately. Use care when using with hot/steaming water (not boiling) to avoid scalding.