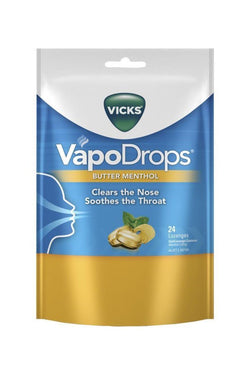 VICKS Vapodrops Butter Menthol 24
Vicks
Only 6 in Stock. Be Quick!
A pack of Vicks VapoDrops will quickly stop the dreaded throat tickle and a runny nose that precedes a coughing fit and stops you using your voice with confidence!
So next time you want to cheer on your team, sing your heart out, deliver that presentation then make sure your voice performs at its best with Vicks VapoDrops - Nothing clears the nose and soothes the throat faster!
VapoDrops temporarily relieves:
Sore Throat, nasal congestion.
Ingredients