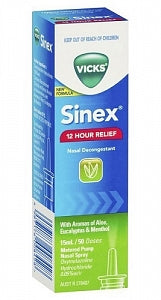 VICKS Sinex Extra Fresh Spray 15ml
Ezy Pharmacy
Only 0 in Stock. Be Quick!
Get your nose back into action with Vicks Sinex – the fast decongestant nasal spray that gives you temporary relief from nasal and sinus congestions due to colds, allergies and sinusitis for 12 hours.
 With its active ingredient Oxymetazoline, Vicks Sinex effectively alleviates sinus pressure and shrinks swollen nasal membrane with just a few sprays in each nostril.
Ingredients
Oxymetazoline Hydrochloride 0.05% w/v. Contains Benzalkonium Chloride and Chlorhexidine Gluconate as preservatives, with aromas of Menthol.
Warnings
The use of this container by more than one person may spread infection.
Do not exceed recommended dosage.
Treatment should not exceed 3 days.
Frequent or prolonged use may cause nasal congestion to recur or worsen.

Do not use this product if you have:
Heart disease
High blood pressure
Thyroid disease
Diabetes
Difficulty in urination due to enlargement of the prostate gland, unless directed by a doctor.
If pregnant or breast-feeding, ask a healthcare professional before use.