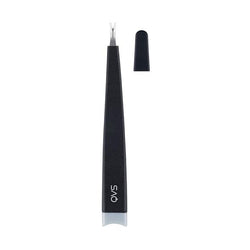 QVS 10-1263 Cuticle Groomer
Only 2 in Stock. Be Quick!
Fine stainless steel blade With cuticle pusher_ This cuticle trimmer has a fine, sharp blade that effectively removes dry, rough pieces of skin from the nail base with ease. Regular maintenance of cuticles prevents tearing and painful hangnails. A hangnail is that loose piece of skin near the cuticle or at the side of your nail that gets caught on clothing and you try pick it off only to make an unsightly and painful mess of your nails. Hangnails occur most often in dry and cracked skin so remember to use cuticle oil or hand and nail cream daily to soften this skin. To use: Groom cuticles after a bath or shower or soak nails for a few minutes to soften the skin. Using the rubber cuticle pusher, gently push back cuticles. Position the blade at the edge of the excess skin and gently push along with a slow, steady action. Also great on toenails too! Caution: The blade is sharp so use with care. Keep put of reach of children.