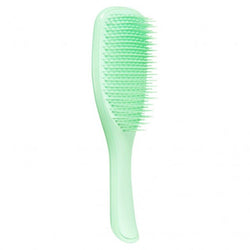 Only 0 in Stock. Be Quick!
Tangle Teezer The Wet Detangler - Mint Karma
The Wet Detangler is the newest innovative hair brush from Tangle Teezer. The wet detangler brush has been crafted to make hair more manageable. From root to the tip of the hair, detangler confers you with optimal results. Further, the soft bristles of Tangle Teezer prevents hair breakage and pulling of hair, thereby reducing stress on hair.
Easy Detangling with Tangle Teezer Comb
A major highlight of the innovative brushing tool is the palm-friendly design, which makes brushing very exciting. The brush makes your hair more shiny and smooth. The comfortable yet sleek design of the comb makes detangling on wet hair easy and painless. The wet detangler makes use of the Award Winning two-tiered teeth technology. The styling brush comes with 325 longer and stronger teeth, making the process of detangling effortless.
Brush for all Hair Types
The detangling brush is ideal for all hair types: curly, coiled, straight or wavy. The brush can also be used on dry or wet hair. The hair detangling brush is basically used to distribute conditioner, mask and other treatments evenly. The hair tool is perfect for fragile and wet hair.