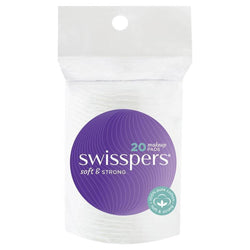 SWISSPERS Make Up Pads 20s
Ezy Pharmacy
Only 1 in Stock. Be Quick!
Swisspers Makeup Pads are 100% Pure Cotton, triple combed to create a soft, plump pad with a unique 'stitching' around the edge of the pad to hold them together even when very wet. Perfect for very liquid cleansers like micellar water.
Directions
Prefect for use with: Micellar Water, Facial Toner, applying and removing face masks, applying blush and contouring powder and creams.
Warnings
Keep away from children, and supervise any use near children. Always dispose of in the rubbish bin, never dispose in the toilet.