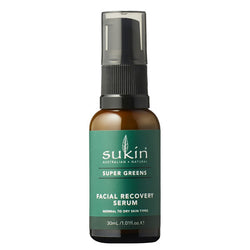 SUKIN S/Grn Facial Recov Serum 30ml
Only 2 in Stock. Be Quick!
Want your skin to glow? Say hello to our Facial Recovery Serum! Our hydrating, nutrient filled Facial Recovery Serum has a light consistency for speedy absorption, and infuses detoxifying Super Green extracts of Kale, Spirulina and Parsley. Our nourishing Serum promotes a radiant, even skin tone, while antioxidant rich Acai and Goji Berry Extracts fight the signs of ageing! Added Grape Seed Oil promotes youthful looking skin and gives your skin light hydration before applying your moisturiser. TIP: For best results apply serum daily, after cleansing but before applying moisturiser.