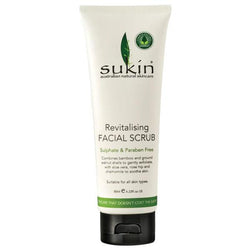 Sukin Revital. Facial Scrub 50ml
Only 3 in Stock. Be Quick!
Microbeads? No way! Our Revitalising Facial Scrub is a cream based exfoliator therefore it is perfect for normal to drier skin types! It uses gentle granules of biodegradable Bamboo Extract and Walnut Shell Powder to lightly exfoliate the skin, removing unwanted dirt and impurities. A refreshing combination of Aloe Vera and Chamomile soothes the skin while Jojoba, Sesame and Rosehip Oils hydrate to leave your complexion silky soft and smooth! TIP: If your skin is super sensitive, add some Cream Cleanser to your scrub to soften the level of exfoliation.