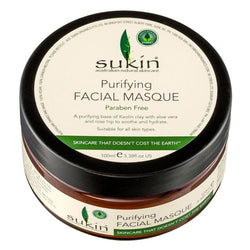 SUKIN PURIFYING FACE MASK 100ml
Only 0 in Stock. Be Quick!
Our antioxidant rich, Purifying Facial Masque is made from a base of Bentonite and Red Reef Australian Kaolin Clays. The Betonite has excellent absorbing abilities to gently remove excess oils and impurities, whilst the kaolin blend mildly exfoliates and softens the skin. Soothing Aloe Vera, Rosehip and Jojoba Oils help to hydrate the face while the masque dries, leaving your skin feeling refreshed and purified once removed! TIP: A tingling sensation may be felt on application of this product. This is the clay drawing on the pores and is completely normal. Follow with a Facial Serum or Oil and feel your skin absorb the goodness.