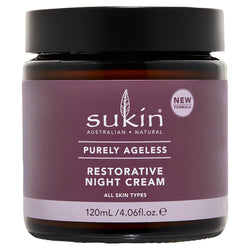 SUKIN PA Restorative Night Cr 120ml
Only 1 in Stock. Be Quick!
Say hello to our Purely Ageless Restorative Night Cream! It will be your best friend if you are wanting to fight premature ageing, as well as fine lines while you sleep! This is all due to our new natural, firming miracle ingredient- pure ribose! The super sugar, obtained from corn seed works to visibly reduce the appearance of wrinkles (total area) by up to 78%, making the skin more elastic after just 14 days. It is also infused with Macadamia Oil and Cocoa Butter for rich hydration and added White Hibiscus and Baobab to naturally plump, improve skin elasticity and fight the signs of ageing.
TIP: Before applying our Restorative Night Cream, massage our Intensive Firming Serum or Hydration Elixir into the skin!