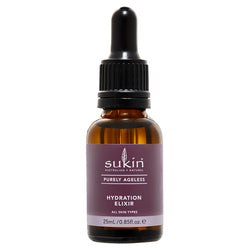 SUKIN PA Hydration Elixir 25ml
Only 1 in Stock. Be Quick!
Our new Purely Ageless Hydration Elixir is just like our old Botanical Hydration Booster- but better! It is jam packed full of Crambe Oil, Vitamin E as well as Paracress Extract to deliver immediate hydration to tired skin as well as reducing the surface of wrinkles up to 50% in just 14 days - yes please! 
TIP: Not sure how to use an elixir? Just the same way that you would apply a regular Facial Oil- after you cleanse/tone and before you moisturise. If putting on an oil is a little scary to you, add a few drops into your moisturiser before application.

Winner of Best Serum in beautyheaven's 2019 Glosscar Awards.