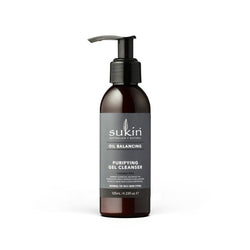 SUKIN Oil Bal. Purify Gel Cleanser
Only 5 in Stock. Be Quick!
Perfect for an combination and oily skin type, our Purifying Gel Cleanser will give you a thorough clean and harness the powerful absorption properties of Bamboo Charcoal as its key active. Charcoal has super absorbent properties, and balances the complexion through the removal of excess oils. Infused with Moringa, Coconut, Rooibos and Willowherb Extracts our Oil Balancing Cleanser assists in keeping skin clean, clear and feeling refreshed! TIP: Follow with our Oil Balancing Clarifying Facial Tonic. If you struggle with oily or combination skin, we recommend masking with our Oil Balancing Masque once or twice a week!