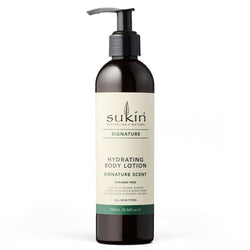 SUKIN HYDRATING BODY LOTION 250ml
Only 1 in Stock. Be Quick!
Our aromatic Hydrating Body Lotion replenishes and nourishes the skin's moisture barrier through its rich blend of Sesame Seed, Rosehip, Jojoba, Avocado and Wheat Germ Oils. Enriched with an infusion of Aloe Vera, Nettle, Horsetail and Burdock, skin is left feeling soothed and hydrated.
TIP: If your skin is extra dry, add a few drops of our Organic Rosehip Oil into your Hydrating Body Lotion before application.