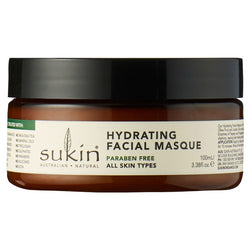 SUKIN Hyd. Facial Masque Mango&Avo.
Only 4 in Stock. Be Quick!
Our Hydrating Facial Masque is a cream based masque, (and smells amazing!) from a rich blend of Mango Seed Butter, Avocado, Olive Fruit and Jojoba Oils. Your skin will feel nourished and super hydrated from the moisture restoring properties from the natural oils and butters. Enzymes from Papaya and Pineapple nourish the complexion and impart fruit acids and vitamins, leaving skin feeling smooth with a healthy glow! TIP: If your skin is feeling extra dehydrated, our Hydrating Mask can be used multiple times a week to give the skin the additional moisture it requires. Follow with a Facial Serum or Oil, then your moisturiser.