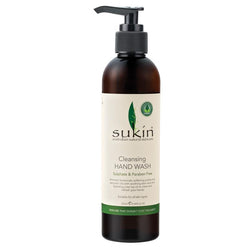 SUKIN CLEANSING HAND WASH 250ml
Only 0 in Stock. Be Quick!
Our Cleansing Hand Wash is designed to gently remove dirt and germs from the hands, without drying or stripping the skin. A rich blend of Jojoba, Avocado and Rosehip Oil restores the moisture level of dehydrated hands while soothing Aloe Vera, Chamomile and Lavender leaves skin feeling clean, hydrated and supple! Our Signature Scent of Mandarin, Tangerine, Lavender and Vanilla will refresh your senses.