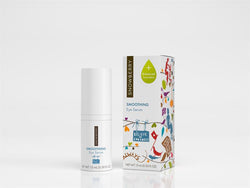 SNOWBERRY Smoothing Eye Serum 15ml
Snowberry
Only 0 in Stock. Be Quick!
A moisturising, targeted, eye cream, with a unique peptide and vitamin complex blended with natural herbal extracts, helps to reduce the appearance of fine lines and eye puffiness. 
Eye skin is thinner and more susceptible to fine lines and unsightly 'bagging, so it needs a specifically designed serum to counteract the effects of facial expressions and the environment.'
Key Benefits:
Snowberry's new, next generation Smoothing Eye Serum, packed with high tech age-erasing ingredients, including Argireline, a unique peptide known as the 'natural botox', will arrest the effects of our busy lifestyles on our eyes - fast. This magic eye cream also contains glycoprotein Antarcticine, and a nourishing extract from the fresh buds of organically certified Mountain Ash, which together reduce the appearance of wrinkles, combat under-eye puffiness and improve overall skin condition in this delicate area.
Combined with a luxurious blend of potent natural ingredients, this light and easily absorbed serum hydrates, smooths and firms eye contour lines and wrinkles, reduces puffiness and corrects the signs of tiredness - naturally.
This formula also contains anti-oxidants, like the New Zealand Totara extract, which acts as a surface free radical scavenger, counteracting oxidative damage before it can begin, along with humectants like New Zealand Harakeke Seed Oil to hydrate and plump the skin. 
Enhanced Formulation:
A new formulation which has now been substantially enhanced, see our blog post for information on these exciting updates. 
Ingredient Highlights:
New Zealand Harakeke Seed Oil – This liquid gold oil hand harvested at Snowberry Gardens is rich in Omega Acids that boosts the skin's barrier layer, helping to seal in natural moisture and is packed with anti-oxidants to help fight surface free radicals.
Totarol– Extract from the age defying New Zealand Totara Tree, packed with antioxidants that help skin defend against surface free radical damage linked to early signs of aging.
L22 - combines active extracts of super ingredients Jojoba, Macadamia and Olive in such a way that the ingredient is an almost perfect match with the lipids in the skin of a typical, healthy young woman. Lipids are a critical component of the skin's barrier but diminish naturally with age, and the addition of L22 means that the Smoothing Eye Serum is actively reinforcing the barrier at every use.
Vitamin E – Also called Tocopheryl is an oil based anti-oxidant that helps protect the skin from surface free radicals in our environment. Vitamin E helps prevent the effects of air pollution which would otherwise accelerate signs of skin aging.
Argireline peptide - protein molecules (amino acids) that relax the muscles and are therefore especially good for reducing the appearance of fine lines like crow's feet around the eye area.
Mountain Ash Bud Extract - helps prevent the capillary leakage that contributes to eye puffiness.
Antarticine - reduces the appearance of wrinkles and encourages the skin's own natural regeneration.

Hyaluronic acid - keeps collagen synthesis up and retains skin moisture (holds up to 1,000 times its weight in moisture), which contributes anti-aging benefits to the skin.  Higher levels of collagen and hyaluronic acid are related to skin that is more supple and resistant to wrinkles and fine lines.
No Nasties
NO Petrochemicals
NO Propylene or Butylene Glycols
NO Volatile alcohols
NO Artificial colours
NO Silicones
NO DEA or MEA ingredients
Dermatologist tested
Product not tested on animals
For more information on the eye-opening science behind Smoothing Eye Serum, read the Snowberry blog.
Ingredients
Water Carthamus tinctorius (Safflower) oleosomes Glycerine Maltodextrin Cetearyl alcohol Vitis vinifera seed (Grape seed) extract Plukenetia volubilis (Inca ichi) seed oil Vaccinium vitis-idaea (Lingonberry) seed oil Benzyl alcohol Cetearyl glucoside Phormium Tenax Seed Oil Xanthan gum Jojoba oil/Macadamia seed oil esters Pseudoalteromonas Ferment Extract Macadamia integrifolia seed oil Tocopherol Pyrus sorbus bud extract Dehydroacetic Acid Dehydroacetic Acid Squalene Totarol Helianthus Annuus (Sunflower) Seed Oil Sodium Hyaluronate Phytosteryl macadamiate Ubiquinone Salicylic Acid Phytosterols Acetyl hexapeptide-8 Sodium Hydroxide
Directions
Apply one pump to fingertips and lightly tap around the eye area. Apply morning and/or night after cleansing. Suitable for all skin types, but especially good for anyone concerned with aging, fine lines and puffiness around the eye area.