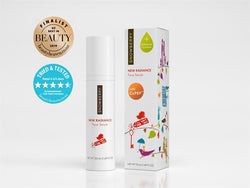 SNOWBERRY Radiance Face Serum 50ml
Snowberry
Only -1 in Stock. Be Quick!
A lightweight serum, with CuPEP™ Copper Tripeptide complex, and New Zealand Kanuka honey extract, hydrates and softens the appearance of fine lines and wrinkles to enhance skin radiance.
Key Benefits:
It's been proven by 8-week Gold Standard Clinical trial to effectively firm skin and reduce the appearance of lines by an average of 25.6%. Such a significant result that it has been published in The Journal of Anti-Aging science and we were invited to present our results at the 23rd World Congress of Dermatology. (That's like the Olympics for skincare!!!).
This product contains New Zealand Kanuka Honey extract from Snowberry Gardens and Hyaluronic acid to provide deep hydration helping to plump skin and reduce the appearance of redness. The formulation is boosted with trademarked CuPEP copper peptide complex which smooths and strengthens skin, reducing the appearance of fine lines.
Enhanced Formulation:
This ever-popular natural anti-ageing serum has now been further enhanced through the addition of a new 'super' ingredient - New Zealand's own, Kanuka honey.
Collected from Snowberry Gardens, Kanuka honey is considered a 'super honey' effective in healing infections and treating skin conditions such as acne, eczema and rosacea. Furthermore, the unique skin calming properties of the Kanuka honey extract help to reduce skin discoloration.
Read the Snowberry blog post about the benefits of Kanuka honey in skincare products.
Ingredient Highlights:
CuPEP™ – the combination of the anti-aging peptide powerhouse Copper Tripeptide-1 and the unique peptide delivery system we have designed at Snowberry. Skin is a natural barrier – so it is actually quite difficult to get skincare ingredients to absorb to where they are needed. Our trademarked peptide delivery system helps the powerful anti-aging peptide penetrate deep into the skin's surface.
Kanuka Honey – Made by the worker bees at Snowberry Gardens our Kanuka Honey hydrates to soothe skin, and restore skin's natural glow.
Hyaluronic acid - a tried and true hydrator that is naturally found in the body and can decrease with age. It's like a "super moisture sponge", that when applied to skin, water attaches to the molecule and helps plump it up.
No Nasties
NO Petrochemicals
NO Propylene or Butylene Glycols
NO Volatile alcohols
NO Artificial colours
NO Silicones
NO DEA or MEA ingredients
Dermatologist tested
Product not tested on animals
Ingredients
Aqua (Demineralised) Glycerine Sodium Lactate Benzyl alcohol Carrageenan (Kelp gum) Xanthan gum Sodium Hyaluronate Sodium phytate Dehydroacetic Acid kunzea ericoides mel (Kanuka honey) extract Parfum Gardenia Fruit Extract & Maltodextrin Glycyl-L-histidyl-L-lysine-Cu2+ (Copper peptide)
Directions
Spread thinly over the face and neck (and hands) in the morning and evening after cleansing. Leave for 5 minutes before applying moisturiser or make-up. This enables the copper peptides to be properly activated and avoids the serum becoming mixed with other products on the skin.