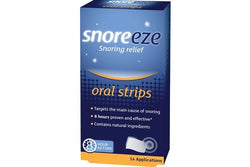 SNOREEZE Oral Strips 14
Ezy Pharmacy
Only 0 in Stock. Be Quick!
Snoreeze Oral Strips target the main cause of snoring. Their dual action, time-based formulation tones and lubricates the soft tissues at the back of the throat to provide effective snoring relief for up to 8 hours.
Snoreeze Oral Strips have a refreshing mint taste and dissolve immediately for instant effect.
Targets the main cause of snoring
Proven and effective for up to 8 hours*
Contains natural ingredients
Ingredients
Pectin (from apples), aqua, glycerin, peppermint oil, cellulose, sorbitan stearate, polysorbate 60, tocopheryl acetate (vitamin E), menthol (from peppermint), aspartame**, potassium sorbate, sodium saccharin, acesulfame K, hyaluronic acid, guar gum, citric acid, blue FCF. Vegetal origin. **A source of phenylalanine.
Warnings
There is no guaranteed 'cure' for snoring. However, Snoreeze Oral Strips can relieve the symptoms of snoring to help provide a peaceful night's sleep for you and your partner. Snoreeze Oral Strips are not a cure for sleep apnoea (a related respiratory medical condition). You may be suffering from sleep apnoea if you stop breathing during sleep, wake-up tired or fall asleep easily during the day.
If you experience any of these symptoms it is recommended that you consult your doctor.