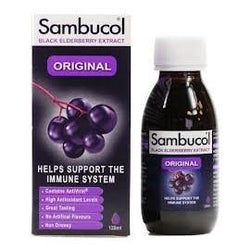 Sambucol Original 120ml
Sambucol
Only 3 in Stock. Be Quick!
Sambucol®
is a unique black elderberry extract rich in immune supporting flavonoids.  Flavonoids are powerful, natural antioxidants that are thought to work to protect the body's cells from the potential damage caused by free radicals. 
For centuries the dark berries of European black elderberries have been used for winter ills and chills. In recent years, researchers have illustrated elderberry's broad spectrum immune support in numerous scientific studies.
Continuing research suggests that elderberry provides excellent support for the body's first line of defence against a broad spectrum of viruses.
Sambucol® is a delicious immune tonic made from black elderberries (Sambucus nigra) and has the equivalent of up to 1000 in every 120ml bottle. The black elderberries in Sambucol® have twice the natural antioxidant capacity of blueberries and more than 50% the overall antioxidant capability of cranberries. Antioxidants support the immune system by helping to neutralise the harmful effect of free radicals.
The black elderberries that give Sambucol® its unique properties have been carefully sourced to ensure that they are of the highest quality. Sambucol® products have a unique formulation and extraction process which preserves and maximises the naturally occurring health benefits of the berry. This helps to maximise the naturally occurring health benefits of the black elderberry to help support the immune system.
Sambucol® was developed over 20 years ago, in 1991, by a world renowned scientist to help unlock the health-giving properties of the plant. Sambucol® has been validated and endorsed by a series of scientific trials taking place over five years, which has led to world-wide acclaim for the product. Sambucol® has since gone on to become a supplement that is relied upon and trusted by loyal users the world over as a great way to get daily immune system support.
Usage:
Viral infections including seasonal, childhood and adult infections. Support for those with sinus congestion, cough, aches and pain, and fever. Can be taken for immune support all year round. Best results are obtained when elderberry extract is taken at the onset of viral discomfort. Stock your first aid cabinet with Sambucol® so you and your family can be well prepared for this year's seasonal ills and chills.
Directions
For Daily Maintenance: Adults and Children over 4 years: Take 2 teaspoons daily (10 ml.) For Acute Illness: Adults and Children over 4 years: Take 2 teaspoons (10 ml.) four times daily
Warnings
Always read the label. Use only as directed. If symptoms or cough persist consult your health care practitioner. Seek medical advice before using during pregnancy and breastfeeding. Keep in a cool dry place. Keep out of reach of children. Do not use if seal is broken or missing.