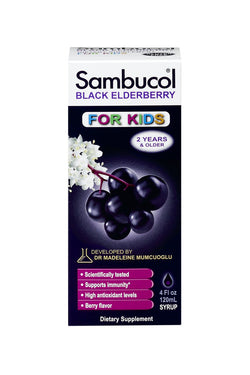 Sambucol For Kids 120ml
Sambucol
Only 3 in Stock. Be Quick!
Sambucol for Kids is specially developed for use by kids ages 2-10. Sambucol was developed by a world renowned scientist who recognised the potential of the antioxidants present in the Black Elderberry. The unique preparation method for the standardized Black Elderberry Extract used in Sambucol preserves and maximises the naturally occurring health benefits of the berry.
Sambucol for Kids is free from dairy, nuts, eggs, grains & gluten.
Flavonoids are powerful, natural antioxidants that are thought to work to protect the body's cells from the potential damage caused by free radicals. Certain flavonoids – anthocyanins – are found primarily in the pigments of dark blue and deep purple fruits such as the black elderberry. It is these that have a remarkable ability to stimulate the body's immune system. According to the United States Department of Agriculture, the highest concentration of anthocyanins are found in black elderberries – nearly double the amount found in any other fruit. The presence of these anthocyanins, gives black elderberries twice the natural antioxidant capacity of blueberries and significantly more than cranberries. Sambucol's unique manufacturing process harnesses the natural power of these anthocyanins providing a health supplement suitable for the whole family.
Ingredients
1.9 g of black elderberry extract per 10ml, glucose syrup, purified water, citric acid, potassium sorbate (to retard spoilage).
Warnings
Warnings:
Always read the label. Use only as directed.
If symptoms or cough persist consult your health care practitioner.
Keep in a cool dry place.
Keep out of reach of children. Do not use if seal is broken or missing.