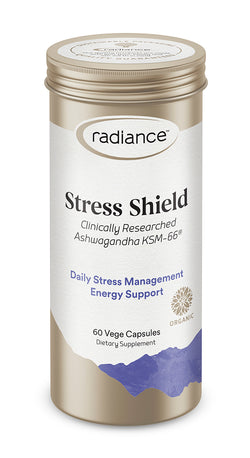 RADIANCE Stress Shield 60caps
Only 0 in Stock. Be Quick!
Radiance Stress Shield provides the worlds best ashwagandha extract, KSM-66. This extract is the highest concentration ashwagandha root extract available on the market today, produced using a unique extraction process based on Green Chemistry principles that does not use alcohol or chemical solvents.
This extraction process means that the many and varied phytochemicals in ashwagandha are conserved in the right ratios thereby not impacting on the efficacy of the herb. The extract has the highest number of quality certifications and is certified gluten free, USDA organic, Non GMO and certified raw. KSM-66 has a large pool of peer reviewed, published research studies—13 double blind placebo controlled human trials completed with 8 ongoing studies.
Ashwagandha has numerous and varied actions, the most well known of those is as a support for those under stress. Studies show taking 300mg of KSM-66 daily for eight weeks to 12 weeks can:
Promote a healthy response to stress, overwork and fatigue without drowsiness

Support a healthy balanced mood

Support a good nights sleep

Reduce stress related food cravings and overeating

Support learning, mental alertness, clarity concentration and alertness, especially when under stress.

Support male and female sexual desire and fertility , especially when under stress.

Support a healthy response to hormonalfgluctuations throughout the life cycle

Support a healthy appetite and weight management when under stress.
Ingredients
KSM- 66 Ashwagandha Extract 300mg
Directions
Take one capsule twice a day.