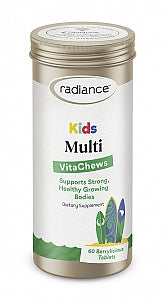 RADIANCE Kids Multi 60chews
Only 6 in Stock. Be Quick!
Radiance® Kids Multi is a well-balanced synergistic blend of vitamins and minerals with trace elements, green foods and bioflavonoids. These tablets, specifically designed for children, are carefully formulated to contain correctly balanced amounts of vitamins and minerals in a chewable and tasty tablet that any child will enjoy and benefit from.
The minerals in this formula are made utilising the unique Biotron Chelation Technology where possible. This technology offers the strongest and most stable chelated minerals surrounded by and bound to a full range amino acids. This is important as many supplements may read well on the label, but utilise poorly bioavailable forms of minerals.
Radiance® Kids Multi may be helpful wherever the diet is insufficient to meet the needs of growing healthy children or children with health or lifestyle challenges. Stress, school demands, sports, dietary restrictions and many other situations deplete the body of the daily nutrients it needs to function properly and perform at its best.
A good multi vitamin and mineral supplement is often an important adjunct to any optimal health or disorder treatment plan as well as for general good health and wellbeing.
Ingredients
Naturally sweetened with fructose. Natural orange, berry and cherry flavour assortment. 100% Vegetarian. Hypoallergenic. Also contains: Fructose, citric acid, natural flavours, magnesium stearate, beet extract. Contains no: Corn, egg, fish, shellfish, gluten, milk derivatives, nuts, soy, allergens, wheat, yeast, artificial sweeteners, preservatives, flavouring or colours.
Directions
Children 2 to 4 years: Two tablets chewed daily. Children 5 years and over: Up to four tablets chewed daily.