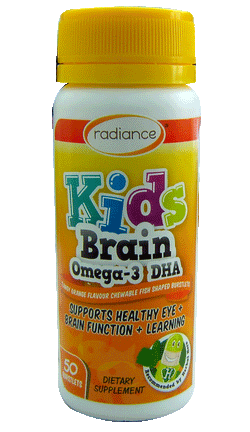 RADIANCE Kids Brain Omega 3 DHA 50
Ezy Pharmacy
Only 6 in Stock. Be Quick!
Helps provide essential nutrition for healthy brain, eyes, behaviour and learning.
Radiance® Kids Brain Omega-3 DHA provides a delicious orange flavoured chewable burstlet that is packed with 300mg Omega-3 DHA.  It provides two essential omega-3 fatty acids – docosahexaenoic acid (DHA) and eicosapentaenoic acid (EPA) that our bodies cannot produce, so we need to get them from either the food we eat or quality supplements in order to meet our daily needs. Omega-3 fish
oils are known to help children's developing brains and preliminary research has found that Omega-3 DHA may help support healthy brain function, eyes, learning and behaviour.
Benefits:
Supports healthy brain function

Supports optimal learning & behaviour

Supports healthy eye tissues and vision
Supports calm, healthy nerves & restful sleep
Ingredients
Concentrated Omega-3 ……………………………..694mg Triglycerides – fish Equiv. DHA……………………………………………..300mg Equiv. EPA…………………………………………….62.7mg No added sugar No artificial colours No added yeast, gluten, lactose, preservatives or dairy products
Directions
Children from 3 years: take 1-2 soft capsules per day. Can be chewed or swallowed.
Warnings
Choking hazard, do not give to children under three years of age and use only under adult supervision. Keep out of reach of children