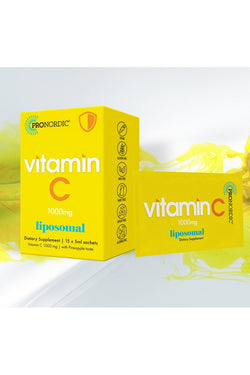 ProNordic Liposomal Vit C 1000mg 15s
ProNordic
Only 2 in Stock. Be Quick!
Liposomal Vitamin C is a product designed to support optimal absorption of vitamin C. This product supports normal function of the immune system, and the nervous system and supports energy levels and vitality. Beside these there are more ways vitamin C supports our bodies. The human body does not store vitamin C for a long time, taking a daily dose can support healthy blood serum levels of Vitamin C. For the uptake of high dosed vitamin C you need to have fat. We designed the liposomal vitamin C to achieve a superior method of delivering this nutrient. Our liposomal vitamin C is supported by scientific research.
Achieve beneficial peak blood serum levels of Vitamin C
Supports your immune system
Supports energy levels and vitality
Supports iron absorption
Helps support cells from oxidative stress
Supports collagen production for the normal function of bones, teeth, skin, gums, cartilage and blood vessels
Supports the function of a healthy nervous system
Always read the label and use as directed. Dietary supplements are not a replacement for a balanced diet. Do not exceed the recommended dose. If symptoms persist, see your healthcare professional.
Highlights of ProNordic Liposomal Vitamin C 1000mg - 
a REAL liposome
Pineapple flavour
Patented Technology
Made without Alcohol or Soy
Made in The Netherlands
New Zealand owned brand