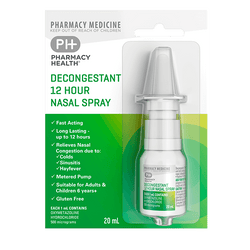 PH Decongestant 12Hr Nasal Spr 20ml
Pharmacy Health
Only -1 in Stock. Be Quick!
Fast acting and long lasting relief from nasal congestion.
 Provides 12 hour relief from nasal congestion

 For children 12+ years and adults

 Made in NZ

 Pharmacy only medicine

 Available in single or twin pack
Ingredients
Oxymetazoline hydrochloride 500mcg/ml – decongestant
Benzalkonium chloride 0.02% w/v – preservative
Warnings
Do Not Use:
In children under 6 years. Use in children 6 to 11 years only on the advice of a doctor, pharmacist or nurse practitioner.
If the blister has been opened or damaged.
For more than 3 consecutive days.
The dispenser for more than one person to avoid the spread of infections.
Ask Your Doctor Before Use If You:
Are pregnant or breastfeeding
Are taking another cough and cold medicine