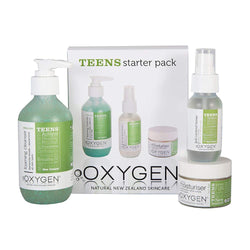 OXYGEN Teen Starter 3pc set
Ezy Pharmacy
Only 0 in Stock. Be Quick!
This starter pack is the perfect way to get your skincare started and sorted.
These 100% natural skincare products come together to provide any teen with a safe, simple & effective face care routine. Pop one in the shower and two by the basin and as they say... 'it is as easy as A. B. C.'
Contains:

Natural teen foaming cleanser - a great all round cleanser with delicious spearmint aroma.
Natural women & teen skin toner for all skin types - instantly cools skin and neutralizes excess oil to reduce shine and appearance of pores.
Natural teen vitalising moisturiser for normal skin - a light non-greasy cr¡§¡§me moisturizer with a subtle aroma of coconut to revitalise the skin, leaving your face feeling fresh and healthy.
Spearmint Essential Oil ¡§C antibacterial and smells delicious.
Organic Aloe extract ¡§C vitamins, minerals, soothe, repair.
Kiwifruit Enzyme ¡§C vitamin C,E,K, omega-3 fatty acids, oil control.
Canadian Willowherb ¡§C soothe, fight redness, fast relief.
NZ Manuka Honey (active 15+) ¡§C helps prevent acne, heals, hydrates.
Organic Apricot Kernal Oil ¡§C vitamin A, C, E, softens, hydrating.
Coconut Balm ¡§C anti oxidant, build and repair, healing.
NZ Organic Hop Extract is our ??nature miracle worker?? ¡§C soothe, tone, fight redness, anti-bacterial.