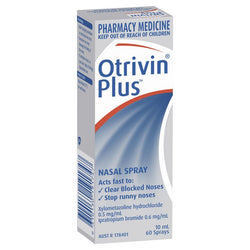 Otrivin Plus 10ml
Ezy Pharmacy
Only 13 in Stock. Be Quick!
Otrivin
 Plus
 Nasal Spray
- Acts fast for relief of a blocked and running nose associated with the common cold.
Otrivin Plus Nasal Spray contains the active ingredients xylometazoline hydrochloride and ipratropium bromide. The xylometazoline helps to open up and clear nasal passages by reducing swollen blood vessels and the ipratr
Ingredients
Xylometazoline hydrochloride (0.5 mg/mL) and ipratropium bromide (0.6 mg/mL), disodium edetate, glycerol, hydrochloric acid, sodium hydroxide, purified water.
Warnings
Brief stinging sensation or sneezing may occur. Excessive use may damage the lining of the nose. Do not exceed the recomended dose. If irritation occurs discontinue use