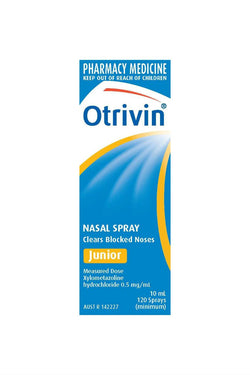 Otrivin F5 Junior MD Nasal Spray 10ml
Ezy Pharmacy
Only 4 in Stock. Be Quick!
Otrivin decongestant nasal spray (junior formula) is specially formulated for children specially formulated for children from 6 to 11 years of age. It should only be used on the advice of a doctor or pharmacist.
It can provide quick relief from a blocked or runny nose, and nasal discomfort associated with Common Cold and allergies in children.
Ingredients
Xylometazoline hydrochloride 0.05%w/v
Warnings
Do Not Use:
In children under 6 years of age.
If allergic to xylometazoline.
After recent opertations through the nose or mouth.
If you have narrow angle glaucoma.
Prolonged use for more than 3 days is not recommended.
Keep out of reach of children.
Protect from heat.
Discard one month after opening.