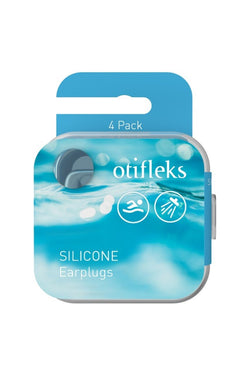 OTIFLEKS Earplugs Silicone 4pk
Ezy Pharmacy
Only 1 in Stock. Be Quick!
Otifleks Silicone Earplugs 4 Pack
Otifleks presents the softest silicone earplugs on the market. You will experience a comfort that you have never felt before.
Hygienically manufactured and compressed between two protective plastic plates. You will be the first person to touch or handle the earplugs.
The partitioned carry-box separates the earplugs, preventing any possible spread of impurities from one to the other.

Key Features and Uses:
Pure Medical Silicone
Anti-allergic
Comes in protective plates
Suitable for bathing, shower and swim.
Tested and Certified:    
Otifleks was developed and manufactured only subsequent intensive consultations from leading physicians and medical professionals. They conform to Australian and European Union regulations.
Warnings:
Please do not insert the earplug into the ear canal, it is designed to seal the ear canal entrance only.