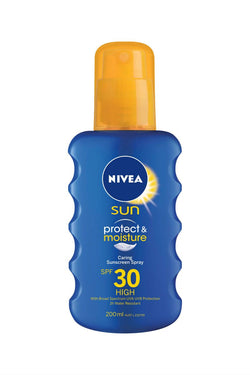 NIVEA Sun Spray 30+ 200ml :
Only 0 in Stock. Be Quick!
NIVEA Sun Protect & Moisture Caring Sunscreen Spray SPF30 offers protection from the sun in a convenient, quick, and easy to apply bottle.

This sunscreen protects and moisturises the skin. Our caring formula has been engineered to be an easily absorbed, non-greasy spray which provides broad-spectrum protection. As well as offering protection from the sun, this sunscreen spray is water resistant for up to 4 hours when applied correctly.
It is also available in an SPF 15.
How it works
Our SPF30 sunscreen spray offers protection against the sun. As well as this, it contains vitamin E to care for your skin, keeping it moisturised, soft and supple.
Complies with AS/NZS 2604:2012 
Ingredients
Active Ingredients: Octocrylene 90 mg/g, Butyl methoxydibenzoylmethane 45 mg/g, Octyl salicylate 45 mg/g, Bemotrizinol 25 mg/g, Phenylbenzimidazole sulfonic acid 15mg/g, Titanium dioxide 15 mg/g. Contains: Phenoxyethanol, Hydroxybenzoates, Ethanol.
Warnings
Always read the label. Use only as directed. Avoid contact with the eyes. Avoid prolonged exposure to the sun. Wear protective clothing, hats and eyewear when exposed to the sun.