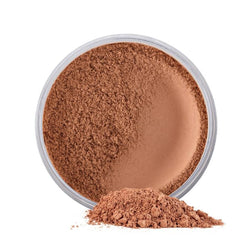 Nude By Nature Mineral Bronzer 10g
Only 0 in Stock. Be Quick!
The highly pigmented, oil-free Mineral Bronzer adapts naturally to skin tones, providing the perfect glow without the damaging effects of the sun. Composed of light-reflecting micro particles, this feather-light formula blends easily into the skin, allowing for a customised tan with an iridescent finish. The bronzer is composed of active natural ingredients Jojoba Esters to nourish the skin and Kaolin Clay for a radiant flawless complexion.

Key Results:

Gives a natural sun kissed glow
Adds warmth and definition to the complexion
Benefits:
Skin nourishing ingredients
Neutral bronze shade to suit most skin tones
Highly pigmented to customise colour
Easy to blend
Fragrance Free