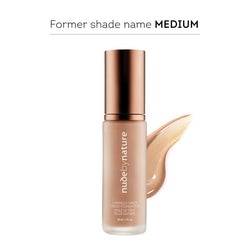 Nude By Nature Luminous Sheer Liquid Foundation N2 Warm Nude
Only 2 in Stock. Be Quick!
Lightweight with a sheer finish, the Luminous Sheer Liquid Foundation is composed of active natural Australian ingredients such as Kakadu Plum, Lilly Pilly and Quandong, combined with rich vitamins and antioxidants. Together, this hydrating foundation helps fight visible signs of ageing, improving the skin's natural radiance with every application.

KEY RESULTS:
Evens out the complexion
Enhances skin radiance
BENEFITS:
Hydrating formula
Skin nourishing ingredients
Rich in vitamins and antioxidants
Helps fight visible signs of ageing
Fragrance-free
Size: 30ml