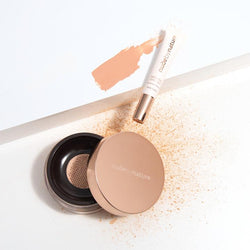 Nude By Nature Complexion Wonders Medium
Only 0 in Stock. Be Quick!
A loose mineral powder foundation that adapts naturally to skin tones, evens out complexion, covers redness and pigmentation and conceals enlarged pores for a satin radiant complexion. Plus a creamy liquid concealer that instantly covers dark circles and disguises puffiness, hyper-pigmentation and blemishes.

KIT CONTAINS:
Limited Edition Mineral Cover Foundation 
Perfecting Concealer