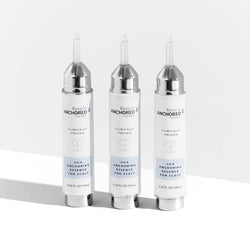 Keep it Anchored Basics Kit Men
Keep It Anchored
Only 0 in Stock. Be Quick!
MOST CONCENTRATED dose of HairAnchor antioxidants, zinc minerals and B-vitamins to reduce daily hair loss
Clinically-proven to prevent daily hair loss by calming scalp stress
With daily use, hair loss is reduced and hair feels fuller
After 4 weeks, people noticed significant improvement in hair loss

After 8 weeks, people noticed less hair in their brush and hair feeling fuller
Hydrates scalp, reducing dryness and itch

Gentle enough for color-treated hair

1-month supply contains 3-units
Ingredients
Essence Ingredients WATER, ALCOHOL DENAT., PVP, NIACINAMIDE, FRAGRANCE, PIROCTONE OLAMINE, ZINC CARBONATE, ZINC PYRITHIONE, PANTHENOL, CAFFEINE, HYDROCHLORIC ACID
Directions
Simple 3-step process for use on wet or dry hair. 1.UNLOCK the treatment tube by twisting the bottom of the capsule 2.DROP the anchor by pressing the base of the capsule 3.MASSAGE the essence thoroughly across your scalp LEAVE IT ON after application – do not use just before washing.