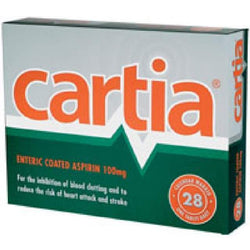 CARTIA 100mg tablets 28s
Cartia Manu
Only 3 in Stock. Be Quick!
Cartia tablets help keep the blood thin, helping to prevent clotting in the blood stream, and thereby help reduce the risk of heart attacks & strokes.
Cartia tablets have an enteric coating designed to protect your stomach.
Ingredients
Aspirin 100mg, with an enteric coating
Warnings
Warnings:

Do not use Cartia if you are pregnant, unless advised by your doctor.
Do not use in children under 12 years of age except on doctors advice.
Do not use for more than a few days at a time except on doctor's advice.