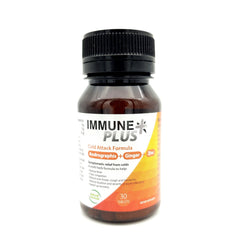 IMMUNE PLUS Viro Recovery 30tab
Immune Plus
Only 0 in Stock. Be Quick!
Immune Plus Viro Recovery 
s a herbal formula to be taken at the first sign of ills and chills. Andrographis (KalmColdTM) is a scientifically studied herb shown to be a powerful immune support, soothe the throat and support recovery for ills and chills. Fresh Ginger is a herb traditionally used to help support the immune system. Zinc helps to support good health and healthy immune function.