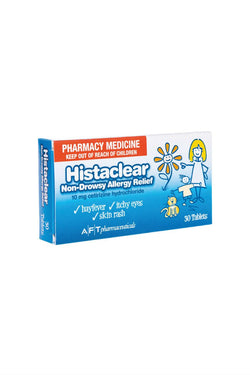 HISTACLEAR 10mg 30s
Ezy Pharmacy
Only 12 in Stock. Be Quick!
Histaclear is used for the relief of symptoms associated with perennial and seasonal rhinitis (Hayfever), such as sneezing, nasal discharge and itching, as well as itching and burning of the eyes.
Histaclear is also used for the relief of symptoms and signs of chronic urticaria (hives) and other allergic skin disorders.
Ingredients
10mg cetirizine hydrochloride
Warnings
Do not exceed a maximum dose of 20mg per day. If you have kidney problems, are pregnant or breastfeeding check with your doctor or pharmacist before commencing treatment.
Although this medicine is unlikely to affect your ability to drive or operate machinery, a few people may be impaired and care should be taken.