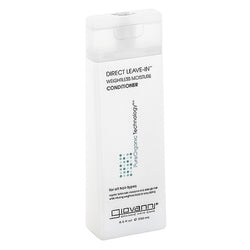 GV Direct Leave In Conditioner 250ml
Only 3 in Stock. Be Quick!
Giovanni Direct Leave-In Weightless Moisture Conditioneris a leave-in repair conditioner for your hair. The treatment repairs to helps plump up each strand for the undeniable thickness that lasts. Restores strength, luster and nourishment to abused hair. Organic botanicals moisturize and detangle hair while infusing weightless body for easy styling.
Leave-in Conditioner benefits:
provides hair strength and luster
helps to build the hair body
nourishes and moisturizes the hair
aids in detangling for easy comb-out and easy styling
With PureOrganic Technology:
Contains a blend of organic oils*, ripe-harvested from renewable plants at the peak of their freshness, cold pressed and refrigerated immediately to ensure maximum purity. Infuses each individual strand of hair with vitamins, nutrients and protein for strength and vitality.