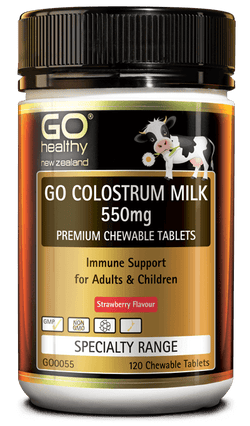 GO Colostrum 550mg 120vcaps
Only 0 in Stock. Be Quick!
GO COLOSTRUM MILK 550mg contains Colostrum plus New Zealand Milk Powder. Colostrum is rich in immune supporting ingredients, including a rich blend of proteins, antibodies, antioxidants, vitamins, minerals and amino acids. These help promote healthy immune function and intestinal health.
Supports healthy immune function
Supports balance of micro-flora in intestines after antibiotic use
Supports lean muscle mass preservation
Ingredients
Colostrum 550mg Whole Milk Powder 240mg Calcium 85mg (milk powder) Made by GO Healthy in New Zealand from select local & imported ingredients.
Directions
Adults: Take 1-3 Chewable tablets daily Children (age 1+): Take 1-2 Chewable tablets daily Can be taken anytime, with food or on an empty stomach. Or as directed by your Healthcare Professional.