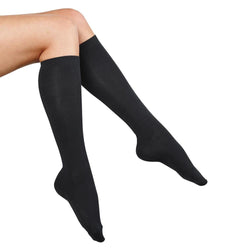 GLO. GBH010-Nude-M Flight Scks Nude
Ezy Pharmacy
Only 0 in Stock. Be Quick!
The Globite Anti-DVT compression flight socks are clinically proved to assist in encouraging blood circulation and preventing deep vein thrombosis during long periods of inactivity. With a compression level of 14-17mmhg, these flight socks gently provide graduated pressure on your legs from your ankles up to the bottom of your knees. this pressure assists in getting the blood in your feet and legs moving back towards your heart, and in doing so reduces excess fluid build up, tired, swollen and aching legs. These socks have been registered by the Therapeutic Goods Administration (TGA) as a Class 1 Medical Device - ARTG260845. 
Clinically Proven to Reduce Risk of DVT Assist Circulation Reduce Swelling Latex Free Nylon/Elastane Use these socks whenever you have a long journey or long periods of inactivity - including long flights, driving, train trips or even long periods of time at your desk. 
WARNING: Do not use if you have serious circulatory problems. Please consult a Healthcare Professional on the suitability of this product if you have any circulatory problems, have had major surgery or chronic illness or if you are pregnant.
Dimensions:
46cmL x 12cmW x 0.2cmD
Weight:
57 grams