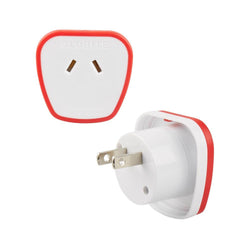 GLO. GBE012 Outbound USA Adaptor
Ezy Pharmacy
Only 0 in Stock. Be Quick!
Make sure you have power wherever you are in the world with this Globite travel adaptor. This lightweight unearthed adaptor allows Australian plus to be used in countries that use the USA 2 pin style outlet like the USA and Japan. 
Max Total Loading: 10A 110V-240V
NOTE: Travel adaptors do not convert voltage or frequency. Check voltage requirement of appliance before use. If the supply voltage and the voltage required for your appliance differ then use an appropriate transformer, or check if your appliance has a variable voltage section.
This adaptor can be used in:
American Samoa, American Virgin Islands, Anguilla, Antigua and Barbuda, Aruba, Bahamas, Barbados, Belize, Bermuda, Bolivia, Bonaire, British Virgin Islands, Cambodia, Canada, Cayman Islands, China, Colombia, Costa Rica, Cuba, Curaçao, Dominican Republic, Ecuador, El Salvador, French Polynesia, Guam, Guatemala, Guyana, Haiti, Honduras, Jamaica, Japan, Laos, Lebanon, Liberia, Maldives, Marshall Islands, Mexico, Micronesia, Montserrat, Netherlands Antilles, Nicaragua, Niger, North Korea, Palau, Panama, Peru, Philippines, Puerto Rico, Saba, Saint Kitts and Nevis, Saint Vincent and the Grenadines, Saudi Arabia, Sint Eustatius, Sint Maarten, Suriname, Taiwan, Thailand, Tibet, Trinidad and Tobago, Turks and Caicos Islands, United States of America, Venezuela, Vietnam, Virgin Island (British), Virgin Islands (American) and Yemen.
Many countries use multiple outlet types and multiple adaptors might be required. Find the country you are visiting in the adaptor guide for more detailed information on which adaptors are required.
Dimensions:
5cmH x 5.2cmW x 4.5cmD
Weight:
26.6 grams
Plug:
Type A