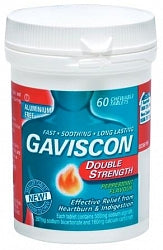 GAVISCON Double Str. P/M Chew 60Tab
Ezy Pharmacy
Only 11 in Stock. Be Quick!
Gaviscon Double Strength brings fast, soothing and long lasting relief from the pain and discomfort of heartburn (gastric reflux) and indigestion. Gaviscon quickly soothes the burning sensation and helps keep the digestive acids in the stomach where they should be.
Suitable for use whilst Pregnant and Breastfeeding
Ingredients
Each Chewable Tablet contains:
500mg sodium alginate
267mg sodium bicarbonate
160mg calcium carbonate
Contains phenylalanine.
Does NOT contain: Aluminium, sugar, gluten or artificial colouring
Warnings
The maximum total daily intake (8 tablets) for adults contains 984mg of sodium (take into account if on a low sodium diet), 4.1g mannitol. Products containing mannitol may have a laxative effect or cause diarrhoea. Contains Aspartame.