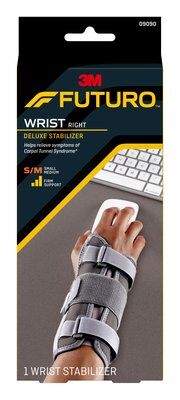 FUTURO Deluxe Wrist Stab. Right S/M
Only 1 in Stock. Be Quick!
The FUTURO™ Deluxe Wrist stabiliser delivers superior, stabilising support to help relieve symptoms associated with Carpel Tunnel Syndrome. Adjustable features provide customizable support, and memory foam in the palm conforms comfortably to your hand. The ergonomic design delivers full range of motion to your fingers. Wrist injuries can affect your quality of life–so reach for the stabilising comfort of the FUTURO™ Deluxe Wrist stabiliser to help you get back to work and the activities you enjoy most.
Provides firm support to injured wrists
Helps provide relief from symptoms associated with Carpel Tunnel Syndrome and other wrist injuries
Dorsal stabilisers enhance support
Adjustable straps for custom comfort
Allows your fingers to move freely
Foam pad in palm for comfort
Breathable materials for all-day wear
Supported by our expert panel of engineers and medical professionals
Colour: Grey