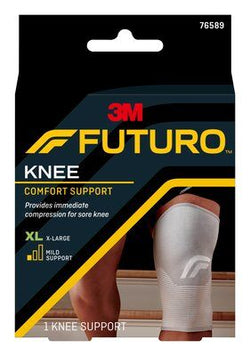 FUTURO Comfort Knee Supp. XL
Only 2 in Stock. Be Quick!
he FUTURO™ Comfort Knee Support is your go to solution for mild support. This comfortable elastic knit knee support is low profile and flexible for natural range of motion and fits underneath clothing. Breathable properties help keep you cool . Reach for the FUTURO™ Comfort Knee Support and get back to doing the activities you enjoy most.
Four-way stretch and contoured design conforms to your knee for comfort and mild support
Breathable material for comfort
Flexible fabric promotes a full range of motion
Wear on either knee for versatility
Low profile silhouette fits discreetly under clothing
Ideal for stiff, weak and injured knees
Supported by our expert panel of engineers and medical professionals
Size: S, M, L, XL
Colour: Grey