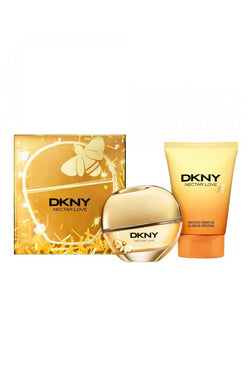 DKNY Nectar Love EDP 30ml Set
Ezy Pharmacy
Only 2 in Stock. Be Quick!
Set includes  - 
DKNY Nectar Love EDP - 30ml 

Shower Gel - 100ml
Fall in love with the undeniable beauty of the DKNY Nectar Love Eau de Parfum, a floriental gourmand fragrance for women.
Inspired by a bee's irresistible draw to a flower in bloom, DKNY Nectar Love is a celebration of undeniable attraction. An addictive dose of delicious honeycomb, DKNY Nectar glows with a delicious charm. Bright and enchanting, the alluring Eau de Parfum recalls feelings of love at first sight with its carefree, happy aura.
Yellow freesia petals are spun with sparkling notes of mandarin, grapefruit and nectarine in the opening of this hypnotising scent, illuminated with nuances of solar salicylates. In the heart, a white floral bouquet gives the juice an elegant character, before bites of juicy Mirabelle lead us towards a unique blend of honeycomb neroli extract in the base, which are then softened by smooth notes of cedarwood, vanilla and musk.
Top Notes: Yellow Freesia, Mandarin, Grapefruit, Nectarine, Solar Salicylates
Heart Notes: Jasmine, Muguet, Orange Flower, Mirabelle
Base Notes: Honeycomb, Neroli Extract, Cedarwood, Vanilla, Musk