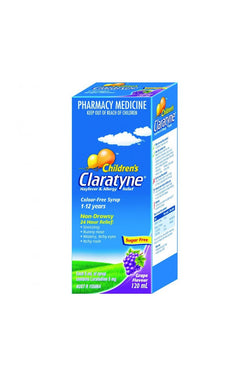 CLARATYNE Child Syrup Grape 120ml
Ezy Pharmacy
Only 1 in Stock. Be Quick!
Claratyne Syrup for Children offers 24 hour relief from the symptoms of hayfever, year round allergies and chronic urticaria (hives); and it doesn't cause drowsiness.
One daily dose provides rapid relief from:
    Sneezing

    Runny nose

    Watery, itchy eyes

    Itchy rash
Warnings
Do not use this product:
For children under 1 year of age, if ring is separated from cap
If you are pregnant or breastfeeding
If you have liver disease.