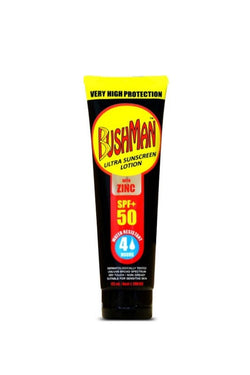 BUSHMAN Ultra Sunscreen Lotion SPF50+ with Zinc 125g
Bushman
Only 0 in Stock. Be Quick!
SPF 50+ VERY HIGH PROTECTION NATURAL, 100% DEDICATED SUNSCREEN with MICRONISED ZINC OXIDE

Zinc oxide is a powdered mineral that sits on top of the skin, scattering, reflecting, and absorbing UVA & UVB rays . Zinc Oxide is the safest and most effective active sunscreen ingredient.
4 Hour Water Resistance
Maximum longevity
Easy to apply
Non greasy formula 
A non-irritant and a non-primary sensitiser.
It does not contain materials that have received negative press attention for their effect on the reef / marine life.
Ingredients
Octocrylene 100mg/g, butyl methoxydibenzoylmethane 50mg/g, Zinc oxide 50mg/g, 4-methylbenzylidene camphor 40mg/g Aloe Vera, Vitamin E in a moisturising base Contains phenoxyethanol Free from Parabens, Oxybenzone, Methylisothiazolinone Dermatologically Tested
Directions
Test product for any skin irritation on a small area of the skin prior to use. Apply generously and evenly to clean, dry skin at least 20 minutes before exposure to the sun or swimming. It is recommended that on an average sized adult, a minimum of 35ml should be applied. Re-apply at least every 2 hours, and always after swimming, towelling or exercising.