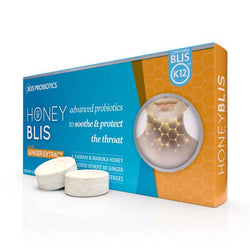 BLIS Honeyblis Ginger 8 loz
Blis
Only 6 in Stock. Be Quick!
Advanced Oral Probiotics with honey to soothe and protect the throat

NEW HoneyBlis Ginger lozenges contain the combined benefits of Kamahi and Manuka honey with BLIS K12™ and ginger to soothe and protect the throat. HoneyBlis contains BLIS K12™, a specific strain of Streptococcus salivarius that that is found to occur naturally in the healthy mouths & throats of adults and children. BLIS K12™ supports your mouth's immune defences by crowding out bad bacteria in your oral cavity and re-populating it with good bacteria.

Manuka Honey is unique to New Zealand. It is produced from the flowers of the Manuka and Kanuka trees, the New Zealand varieties of Tea Trees. Traditionally used in Maori pharmacopeia, New Zealand Manuka has long been valued for its health-maintaining effects.
Kamahi honey is also unique to New Zealand and valued for its "fresh, sophisticated bush" aroma. It is a rich and smooth honey, with a soothing effect for the throat.
Ingredients
Kamahi and Manuka honey (min. 89%), Maltodextrin, Streptococcus Salivarius K12 (contains at least 1 billion CFU/lozenge (at date of manufacture), Ginger Extract, Tableting Aids, no artificial colours or flavours, GMO-Free, Gluten Free and no added sugar.
Warnings
Always read the label and use as directed. If symptoms persist, see your healthcare professional.