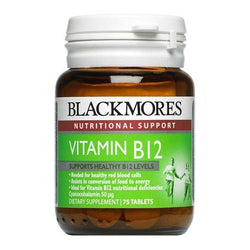 Blackmores Vitamin B12 50mcg 75 Tablets
Only 1 in Stock. Be Quick!
General Information
Supports the healthy functioning of all cells of the body, and plays a critical role in energy metabolism. It is essential for red blood cell production . Vegetarians, pregnant women, people with coeliac disease and older people may all benefit from supplementation.
Warnings
If you are pregnant or breastfeeding consult your healthcare professional before use.
Common Uses
Supports the formation of healthy red blood cells •Supports the conversion of food into energy •Supports the metabolism of folic acid (folate) •Small, easy-to-swallow tablet.
Ingredients
Cyanocobalamin (vitamin B12) 50 µg
Directions
Adults – Take 1 tablet twice a day with meals, or as professionally prescribed. Children under 12 years – Only as professionally prescribed.